Arcade Games
Board Games
Puzzle Games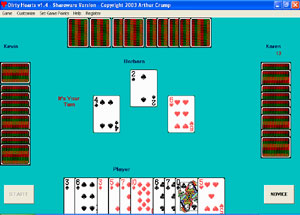 Dirty Hearts
is the
Ultimate Hearts
Game
Play against computer opponents at
Novice or Expert level.
The registered version offers an
additional level of game play,
more graphics and sound, as well as
the latest version and other additions.
Register Dirty Hearts Today for the Special Internet Price of $10:
Or,
DOWNLOAD the shareware version of
Dirty Hearts
The file hearts.exe is 1 MB in length.

Download hearts.exe
hearts.exe is a self-extracting file.

To install Dirty Hearts
Download hearts.exe to your computer

Double click on the file hearts.exe to uncompress it. (If you have trouble finding the file on your computer, click on the 'Start' button. And then click on the 'Find' option to search for 'hearts.exe')

Follow the Windows installation instructions

Start Dirty Hearts by double clicking on its Icon
Card Games
Casino Games
Other Titles